Welcome to Pop's Garage in beautiful downtown Beach Bum Cove. A mythical place where clocks don't get wound, calendars don't get hung (unless they have old car pictures) and recessions never come. Pop still drives Dorothy Louise, his beloved Rambler Ambassador convertible but keeps his skateboard in the back for when he forgets her gas gauge tends to stick.
The Showroom features 1:18 scale models of the vehicles produced by the post-war era independent American manufactures. Also featured are models of the hearses and limousines that Pop is so enamored with. Pictures and Information is provided here of the models, colors available and suggestions of where to find and purchase them.
Pop has made some new friends, you will find links to Diecast Models Wholesale (Great selection and Prices) and eBay (for hard to find models) in the Showroom. Please visit them and make them feel welcome!
Below are some of the models currently in the Showroom and new ones are added as they are announced. Other out-of-production models can also be found in the Showroom.
Tire Kicking is the place Pop puts articles and photo features about his favorite cars. Featured now is Great Caldendar Art and Restoring a 1953 Nash Rambler Custom Convertible; the 1948 Studebaker Land Cruiser and The History of the Metropolitan. Some articles have links to other sites of interests for fans of the late American independent auto manufacturers.
In The Livery, you will discover that Pop also has a real thing for limousines and hearses. Friends in his car club own The '49 Crown Imperial and provided the original factory photographs that illustrate the article. The Professional Cars, a rare look at vintage professional cars owned by members of the Tri-State Chapter of the Professional Car Society, has been updated with new photographs in a new gallery format.
---
Sometimes Pop finds material on another website that is just too good not to share. ATE UP WITH MOTOR is one of those sites. It provides in-depth histories of interesting cars and the people behind them. It primarily focuses on older cars and has many articles on the products of the American independents. Using the navigation bar at the top of any page, you can search histories by Type, Era or Brand. The article that really caught Pop's eye was about Ramblers, maybe because he learned to drive in a 1957 Rambler.

Ramble and Roll: The Compact Nash Rambler

"Every ten years or so, the American market rediscovers the compact economy car. This "discovery" is inevitably treated as a revelation, as is the idea that a small car might not be a sluggardly automotive hair shirt. Our younger readers may therefore be surprised to know that the idea of a small, luxurious economy car goes back at least to this primordial American compact: the original Nash Rambler." For the full story of the 1950-1963 Rambler and Rambler American, click on Ramble and Roll: The Compact Nash Rambler by Aaron Severson.
---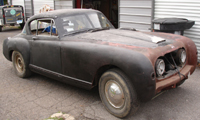 Larry Varley of Melbourne, Australia is, like Pop, a member of The Nash Car Club of America. He is restoring a 1954 Nash Healey LeMans Coupe and has been keeping the club's MOL (Members on Line) up-to-date with the restoration through pictures and links to his website. The Healy has an interesting background and Larry has fully documented this. He has taken photographs of everything and put captions to each one. You can follow along by clicking on Nash Healey Restoration. Click on the numbers under the photograph to follow this restoration in progress.
---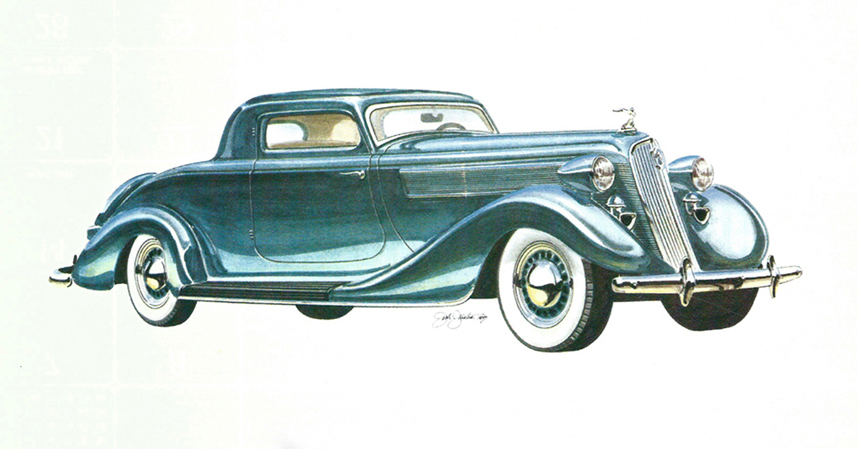 1935 Studebaker
Great Calendar Art
Some calendars, like these, do get hung in Beach Bum Cove. That's because they feature fabulous car art. The examples shown here are a selection of the early products from the American independents. The calendars, with a different cars for each month, were given out in the late 1990 to the customers of a chain of Ohio "filter & lube" service outlets.
---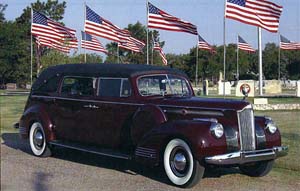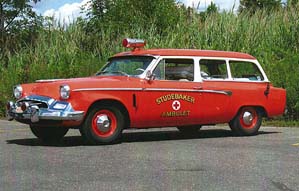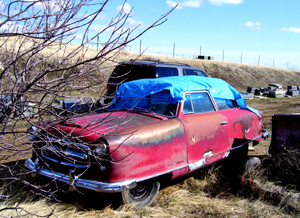 Words & Pictures by owner Dave Simley
I had always been a Ford car person, the old ones. While on a hunting trip in Montana, I spotted an old car behind a building on the edge of Glasgow.
I told my son, Matt, "It looks like a Nash, and a convertible besides. Let's go look." Sure enough, it was. Rambler was the only identifying mark on it. I decided that I was going to find out who owns it. Matt's reply was "Why would you do that? It's junk." (story)
---
Scale Models: The Independents, Hearses & Limousines
---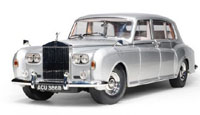 1964 Rolls Royce Phantom V MPW
New from Paragon is the 1964 Rolls Royce Phantom V in 1:18 scale. It was the ultimate limousine of its day. It is done in silver and is in the $129-164 price range (depending on retailer). See Showroom for details and order information.
---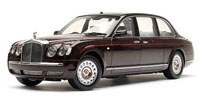 Queen's Bentley State Limousine
This state limousine was a gift to the her Majesty Queen Elizabeth II on theoccasion of her Golden Jubilee in 2002. Minichamps has done both a 1:18 and 1:43 scale model of this one-of-a-kind limousine and both are long since out of production. See Showroom for photographs and suggestions for finding one.
---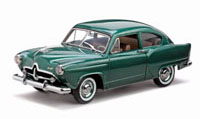 1951 Kaiser-Frazer Henry J
The little Henry J from Kaiser-Frazer has been done (twice- without trunk and with trunk) in1:18 scale by SunStar. Both versions are in the Platinum Series and several new colors have been added. See Showroom for more photos, details, colors and order information.
---

1952 Nash Ambassador Super Airflyte
SunStar is producing one of Pop's favorite cars in 1:18 scale. The Airflytes come from their Platinum Series and come in several color schemes and are in the $70-80 price range (depending on retailer). See Showroom for details, new production colors and order information.
---

1959 Cadillac Series 75 Limousine
This fantastic 1:18 scale model from the now defunt Precision Miniatures is becoming hard to fine. Most colors can stil be found on eBay and at select dealers who still have stock. See Showroom for more photos, details, colors and finding information.
---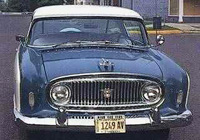 The Links page has been re-edited, updating some web addresses and dropping some no longer available. All the great Web sites Pop finds as he surfs through his morning coffee. Interesting and historical photo, and fact filled, sites related to your favorite cars from the Independents plus, of course, Hearses and Limousines.